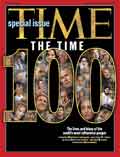 TIME MAGAZINE'S "TOP 100 MOST INFLUENTIAL PEOPLE IN THE WORLD TODAY"
Artists & Entertainers from 1900-1999
Issue April 19-26, 2004
By ALEX PERRY
RUSSEL WONG PHOTOGRAPHER FOR TIME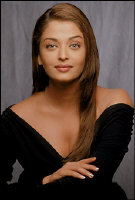 Aishwarya Rai gets the sort of web adulation that even Britney Spears might envy. The 17,000 sites in her honor include poetry sites, a "Hindu shrine" site, even a site dedicated to her eyes (which she wants to leave to science when she dies). "She deserves to be pampered with roses, smothered with caresses; iridescent as the moon, she is life, body, soul and, yes, heart," reads one paean from a fan. For billions more, from Kabul to Kuala Lumpur, "Ash" is the most recognized female face in Bollywood, as the Indian film industry (the world's largest) is widely known. Now she is about to make a breakthrough in the West. This spring the 30-year-old former Miss World will return to Cannes as the new face of L'Oréal and then tour Britain, the U.S. and Canada in a Bollywood road show. A string of Western film roles will follow Coline Serreau's Chaos, in which she plays a prostitute who is rescued by a housewife, played by Meryl Streep; and Bride and Prejudice, director Gurinder Chadha's follow-up to her 2002 hit Bend It Like Beckham. None of that means Rai has given up Bollywood. She's starring in four Indian films to be released this year and has signed for five more.
Rai finds her arrival in Hollywood a little hard to believe. "For a long time I was skeptical," she says. "But now I'm realizing it might be for real." Her hope, she says, is to lead an Indian invasion, to "catalyze" Bollywood's crossover to the West and "open the doors for everybody else." But with aspiration comes fear too. "I'm stepping out of my comfort zone," she says, "leaving all that adulation to be a newcomer again." Somehow, we suspect, the adulation will follow her.